Robins U11JS players enjoyed a great day out to the County Ground this afternoon, as they travelled in style to pick up their title winners trophies at the North Wilts League End of Season Presentation Awards.
Thanks to the generosity of our sponsor, CS Electrical, the boys were treated to a ride in a swish "Hummer"-style limo which picked us up from our home base at Lawn School and took the players on a luxurious ride around town before dropping us at the County Ground in plenty of time for the awards ceremony - those Robins boys certainly know how to make an entrance!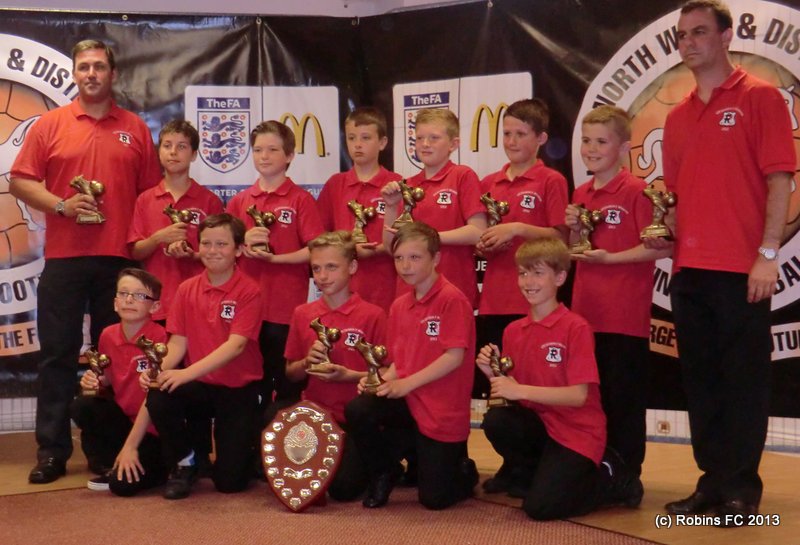 The players then heard their praises rightly sung for their achievements this season before going up to collect their Div 3 winners' trophies and the Div 3 shield from Swindon Town legend Don Rogers, a proud moment for parents and players alike. It was familiar territory for some of the players, as veterans of last season's title-winning conquest of Division 4. Many players go through their entire career of youth and adult football without ever winning a title, so to win a title at any age or level is always a very special achievement. To win two in a row is really quite something!
For a team that was newly promoted into Division 3 this season to go straight through and win the title was a magnificent achievement and testament to how hard they all worked and the quality of football they played. The players aren't resting on their laurels though and work has already started on preparing for what will undoubtedly be a tough test as they step up to Division 2 next season. But today the focus was rightly on celebrating the boys' achievements this season and reflecting on some great memories. Onwards and upwards, lads!
A small gallery of photos from the day is here.