Robins U11JS capped an already impressive title-winning U11s season by also being awarded the N Wilts League Respect Award for the U11 age group at the League's recent AGM. After each game in the N Wilts League, managers mark their opposing team on "Respect" marks in terms of how well they have complied with the principles of the FA's "Respect" initiative, which is all about increasing respect in the game for match officials, opposing players, team-mates and coaches. Marks are awarded for all aspects of following the Respect guidlines from the use of the Respect barriers at the side of the pitch, shaking hands with the opposition, the players' behaviour and approach to the game and even parents!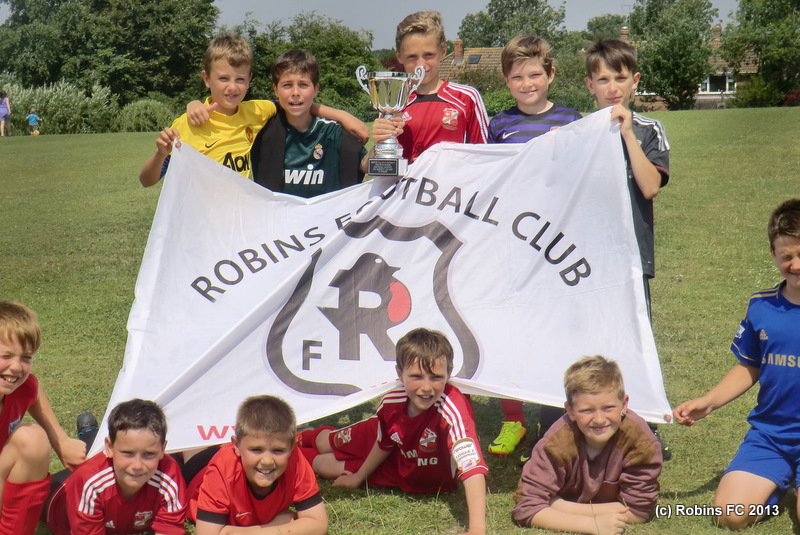 The FA Respect campaign is one we at Robins FC are fully behind, as we believe are all the teams in the N Wilts League, and it's something we try to instill in the players at all age levels. So to be recognised as being the best in our age group in this regard by opposing teams (especially given we'd usually just beaten them!) is especially pleasing.
Club chairman Paul Wainwright presents the trophy to team captain Jack Rockett after training this morning
Club Chairman Paul Wainwright presented the trophy to the players after training this morning and commented "This is a fantastic achievement by this team and reflects their commitment and our commitment as a club that good football is not just about winning games but playing the game in the right way. It's also a very rare accolade for a team that wins their Division to also win a Respect Award, so that just backs up what a special bunch these players really are, well done lads!"
A small gallery of photos of the players with the trophy is here and you can find out further information about the FA Respect initiative here