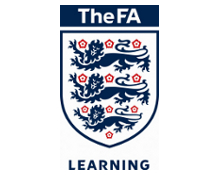 Congratulations and a warm welcome to the Robins FC coaching family to Mark Chambers and Terry Stanislas who both completed their FA Level 1 coaching courses this summer. Terry is the 4th and Mark the 5th new Robins FC coach to gain their Level 1 coaching badges this year, while Jason from the U8s coaching team is already well advanced in his Level 2 course. A concrete demonstration of Robins FC's ongoing commitment to ensuring our coaches have the best possible level of support in their development as they in turn seek to develop our young players to reach their maximum potential.
Mark and Terry attended separate courses in Chippenham and Swindon, putting in several weeks of Sundays and a few Friday evenings thrown in to boot, finishing with a gruelling 6-hour session on the final Sunday, but while they did the same course, the conditions couldn't have been more different - while Terry slogged through the rain of a very wet June, Mark had to sweat his way through several Sundays in the searing heat of July. But all the hard work has now paid off and the pair are now ready to start coaching duties with Robins' young players. Terry will continue working with next season's U11s where he has already played a crucial role masterminding this season's successful U10s League Cup campaign. While Mark will step up from the assistant role with this season's title-winning U11s to guide them in their new U12s Division 2 status next season. We wish them both the very best of luck in their new roles, in which they'll be supported every step of the way by all the Robins FC coaching team.
All Robins FC coaches have to attain the FA Level 1 as part of our certification as an FA Charter Standard club which means parents can rest assured their children are being trained by qualified coaches in a safe and fun environment. Club chairman Paul Wainwright congratulated the pair on their achievement, commenting "Well done to you both, I believe this is excellent news for the club, with more qualified coaches on board to help with the important work being carried out coaching and empowering our future young Robins. This is what grass roots football is about, empowering not only the young players but in addition, the Dads and the Mums to get involved in the sport as well, truly great community stuff."