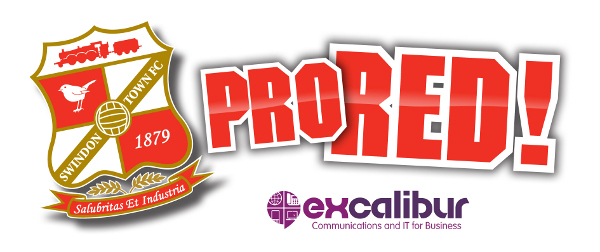 As announced in September, Robins are honoured to be one of only 3 youth football clubs selected to launch the club's "Pro Red" initiative, designed to strengthen links between the professional game and youth football clubs in the area. This exciting new initiative from Swindon Town is designed to encourage the fans of the future, as well as giving young players in the area the chance to form a link with their local professional football club and experience the thrill of live matches at the County Ground at a special discount rate and we're very proud to be associated with it.
Robins chairman Paul Wainwright and U8s captain Ethan Wilmot help launch the scheme alongside STFC chairman Ged McCrory, manager Mark Cooper and, of course, the famous Rockin' Robin!
Benefits include:
Club day out at a Swindon Town match, Robins teams will take part in pre-match and half-time activities on the pitch – we have chosen the Sheffield Utd game (29th March), full details will be given nearer the time, but for an idea and to see some of the photos from a previous similar day out, have a look at the photos in the September announcement
"Player ambassador" - clubs participating in the scheme get to nominate a first team player to act as their "player ambassador". We have chosen popular Town keeper Wes Foderingham who will hopefully be coming to visit us shortly!
Discounted tickets to Swindon Town home games for all Robins players and their families, with Robins getting a percentage of all sales! Adult tickets booked under the scheme are £15 (usually £25 in the main stands), Concessions just £10 (usually £19) and child tickets are just £5 (usually £12) – that's less than half price! Save yourself some money and raise money for the club at the same time – you can't lose!
There's no limit to the number of times you can book or the number of people in your party – at a fiver per kid, you could even use this initiative to allow your football-mad kid to take all their friends to the football for their birthday party! If you'd like to benefit from the Robins "Pro-Red" discount, please download and fill out the form on this leaflet, indicating how many tickets you'd like, for which game and which stand you'd prefer to sit in and hand it together with payment IN FULL to your team manager at least two weeks prior to the game you'd like to attend. If you have any questions, please see your team manager. NB These discounts are ONLY available when you book via Robins FC!
Read more at the STFC website, download the STFC ProRed brochure or download the application form for tickets here!