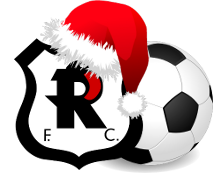 Christmas is a special time of year for all of us, a time to enjoy the company of family and friends, but also to remember those less fortunate than ourselves. As reported in the report on our recent Christmas party Robins parents responded to the spirit of the season by kindly donating tins of food for the homeless.
Robins chairman Paul Wainwright donates the food to Christmas Care Chairman Patsy Maloney
On Monday this week, our chairman Paul Wainwright took the donated goodies to the Christmas Care shelter, based out of the Methodist Church on Queens Drive, and handed them over to Christmas Care chairman, Patsy Maloney.
Paul commented "Here at Robins, we never forget that we are part of a wider community. Football is our focus, but community is at our core. We're always mindful of that and helping out with schemes like this is an essential part of that responsibility. Many thanks to all the parents who made the effort to donate food to this excellent shelter at this special time of year.". More information on the Christmas Care Shelter is available here