Robins U9s enjoyed a great day out at the end of January when we went on the Swindon Town Football in the Community Club Day at the County Ground. Instead of our usual Saturday morning training, both teams, Reds and Whites, spent the whole day together at Swindon Town as guests of Football in the Community.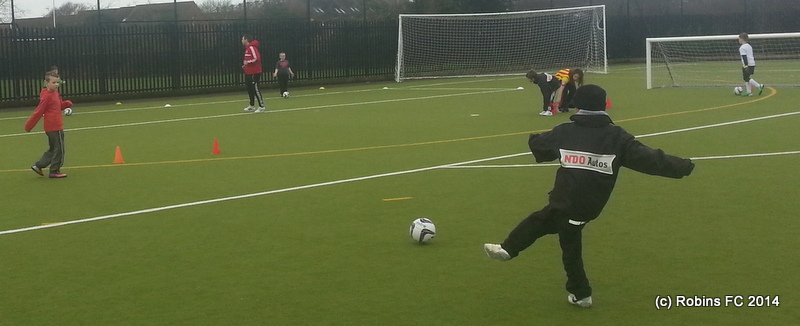 The day started with a fascinating behind the scenes tour of the County Ground itself, sitting in the dug-out, visiting the impressive boardroom and executive facilities before moving on to the home, away and match officials' dressing rooms (no tweeting allowed!)
Next it was on to the Astro pitches at St Josephs for a fun training sesssion - any of the kids who've been on any of the excellent half term and school holiday development courses the Football in the Community guys run will tell you they put on great fun training sessions and today was no exception. The kids had great fun, working on a session on switching play and using wide players.
After all this excitement, we'd all built up quite an appetite so the pizzas for lunch were disptached in short order! Then it was back over to the County Ground and a quick visit to the club shop and a bit of face time with club mascot Rockin' Robin before settling down to enjoy the afternoon's game against Shrewsbury. The Robins contigent were fully (and very vocally!) behind Swindon for the full 90 minutes and their enthusiastic support was rewarded with a 3-1 win!
Finally, after a brilliant day out, it was time to head home. A great day out for players from both teams and our thanks again to Shane, Luke and all in the Football in the Community team.
A full gallery of photos from the day is available in our photos section here and further information on the STFC Saturday team club is available from the Football in the Community website here