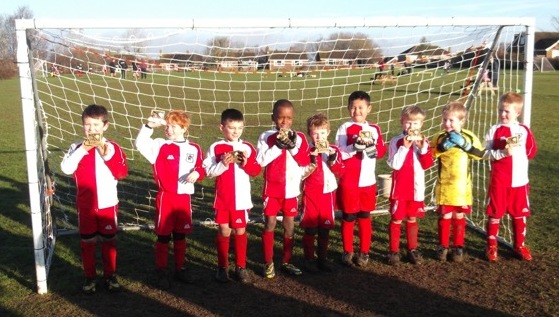 Robins U7s show off their trophies from the first Trophy event
Congratulations to Robins U7s and U8s who won their Trophy Event finals this weekend, completing a superb double of both Trophy Events held to date, a brilliant acheivement for both teams.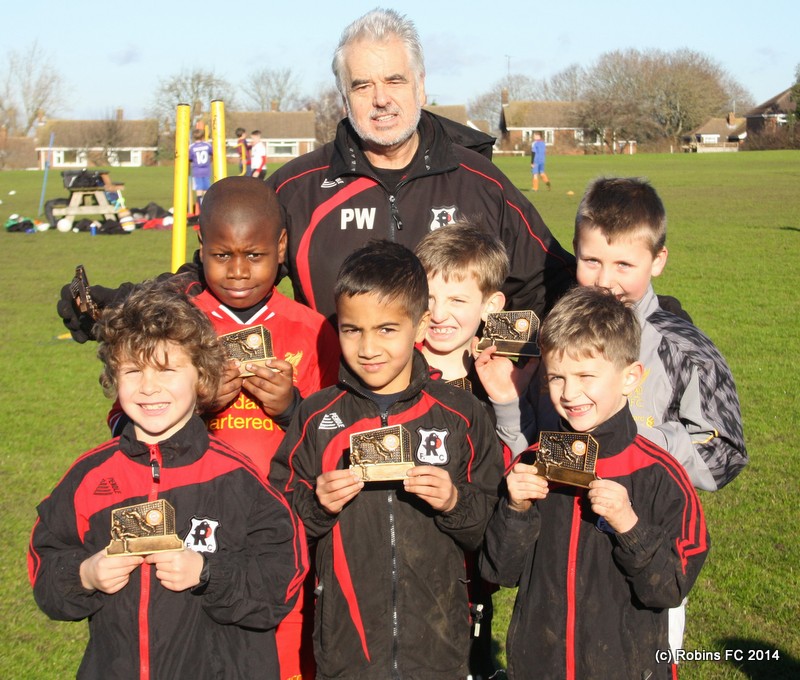 Chairman Paul Wainwright presents the successful U8s team with their trophies from the first Trophy Event
First up this weekend were the U7s who played Saturday morning in glorious sunshine on the new 3G surface at Stratton Community Centre - a marked contrast to the monsoon conditions of the semi-final a few weeks ago against Liden! This weekend however, it was Greenmeadow in the final and two strong sides promised a great contest. They did not disappoint as two very good sides played some of the best football seen this season. They went into the break evenly matched with a goal apiece, a fair reflection of the game, but a strong 10 minute spell at the start of the second half saw Robins take what seemed like a strong lead. But Greenmeadow teams are rightly well-known for never giving up and they fought back strongly to pulled the game back level with a few minutes to go. Coaches and parents were all gearing up for what looked like inevitable extra time, but the players obviously hadn't read that script and a well-worked move saw Robins hit a late winner to take the trophy! A tight game that ebbed and flowed in the best traditions and with some brilliant football played on both sides.
Meanwhile the U8s had also had a tight time of it in their first game, a closely fought semi-final against Wroughton at home a few weeks ago. Both sides scored some great goals in a very good game of football and they couldn't be separated even after extra time. That meant the tie went to the dreaded penalties and it was Robins who kept their cool best, winning the shoot-out with some well-taken spot kicks. This set up a tempting final away to Ramsbury this weekend which the Robins players seemed to take in their stride. No need for extra time or penalties in this game as both sides played some compelling stuff but in the end Robins were just too strong and comfortably wrapped up the Trophy inside normal time.
A massive well done to both teams, and their coaches and of course ever-supportive parents. It's difficult enough to win one Trophy Event in a season so to win two consecutively is quite some achievement! The players are a credit to themselves, their parents and coaches and of course to Robins FC. The "Robins Way" is proving effective yet again in developing two more talented teams of youngsters, following in the footsteps of their successful older predecessors!
The idea of the "Trophy Events" is an FA initiative arising from the recently adopted "Youth Development Review", a two-year study of how best to promote development in youth football in this country. The aim is to allow younger age groups to gradually get used to playing competitive football. Previously, teams would go from playing two years of development/friendly games where no results or League tables were published, straight into a 20+ week season-long league competition; in contrast, Trophy Events aim to introduce the competitive element gradually and intersperse competitive fixtures with development league fixtures.
Further information on the FA's Youth Development review is available on the FA's main Youth Development Review page and locally on the Wilts FA website