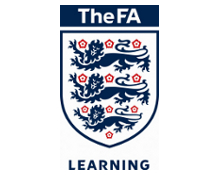 Congratulations and a warm welcome to the Robins FC coaching team to Mark Martin who's become the lastest recruit to an already strong line-up of coaches at the club. Mark battled through wind and rain and a significant commute to attend the FA Level 1 course in Calne over the course of 3 weekends at the end of February/start of March. The course finished with a gruelling six-hour practical session in freezing wind and rain last Sunday but all the hard work has now paid off and Mark is now fully qualified with his FA Level 1 Certificate.
Mark already has practical experience of coaching in another sport, having spent many years successfully coaching karate to young people. That experience of coaching young people will stand him in good stead as he now transfers those skills from the karate arena to the football pitch.
All Robins FC coaches have to attain the FA Level 1 as part of our certification as an FA Charter Standard club which means parents can rest assured their children are being trained by qualified coaches in a safe and fun environment. It's also a concrete demonstration of Robins FC's ongoing commitment to ensuring our coaches have the best possible level of support in their development as they in turn seek to develop our young players to reach their maximum potential.
Club chairman Paul Wainwright congratulated Mark on his achievement, commenting "Well done, Mark and welcome aboard! I believe this is excellent news for the club, with more qualified coaches on board to help with the important work being carried out coaching and empowering our future young Robins. This is what grass roots football is about, empowering not only the young players but in addition, the Dads and the Mums to get involved in the sport as well, truly great community stuff."