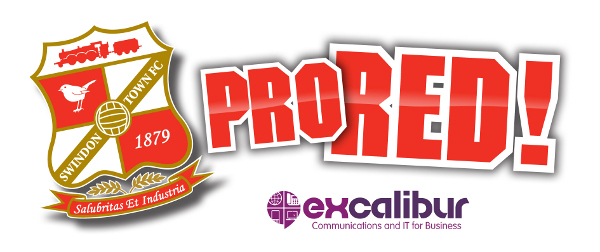 Over 160 Robins players and parents enjoyed a superb day out at the Swindon Town v Sheffield United game on Saturday 29th March, courtesy of the club's brilliant Pro-Red initiative, of which Robins are a founding member.
Meeting their heroes - club captain Darren Ward signs autographs before the game
The day started with a meet-up and fun kick-about on the grass behind the Don Rogers stand, before all the players got the chance to meet three stars of Swindon Town: first team captain Darren Ward, Alex Pritchard, the star midfielder on loan from Spurs, and of course not forgetting the ever-popular club mascot, Rockin Robin. All 3 were swamped in Robins players as they posed for photos, chatted with the players and got those all-important autographs!
Flying the flag for Robins
Then it was the time to go into the game, a little bit early as all the players had the chance to parade around the pitch before the game, warmly applauded by all four stands as we proudly held the Robins FC flag and banner high! 2 lucky players from each team then formed a "guard of honour" for the players as they came out of the tunnel to start the game
Pick that one out!
Then we took our seats for what was to prove a thrilling game, with home-grown youth player Miles Storey opening the scoring right in front of us - we couldn't have had better seats to see the goal! Robins players, parents and coaches all went potty celebrating a great goal!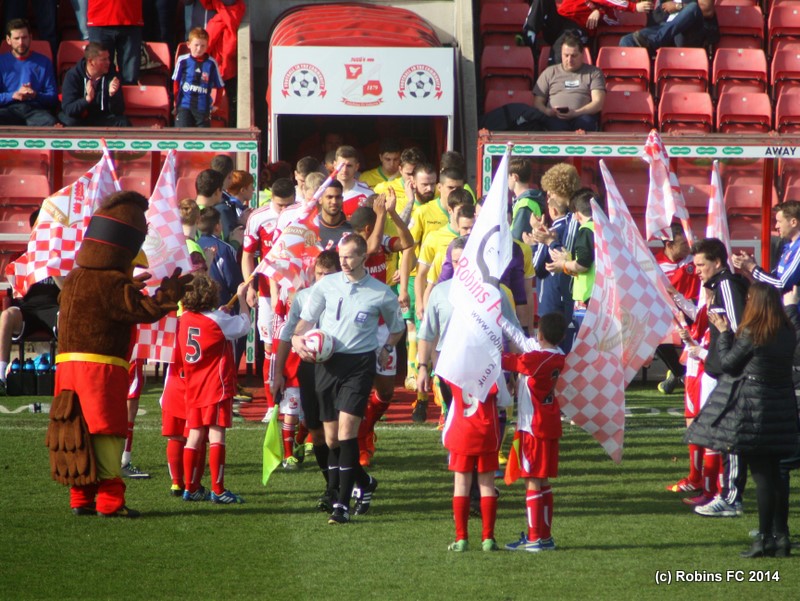 Robins players form a guard of honour as the players and match officials come out
At half-time the players got their chance to show their stuff on the pitch, as the U6s and U7s had a penalty shoot-out against Rockin Robin, the U8s and U9s played a mini-game in the middle of the pitch, and the U11s and U12s blasted shots at Football in the Community Coach Ziggie who bravely volunteered to play shot-stopper against the older lads. It was fantastic to watch the players having the time of their lives, taking full advantage of a great opportunity - how many young players of this age can say they've played or even scored on a Football League pitch in front of a crowd of over 8,000?
Some Robins are on the pitch!
In the second half, Sheffield United got an equaliser but Robins players continued to cheer on their Swindon Town heroes, until in the 90th minute, local lad Louis Thompson popped up with the winner to wild celebrations from the Robins players parents and coaches. As the pundits would say, you couldn't make it up!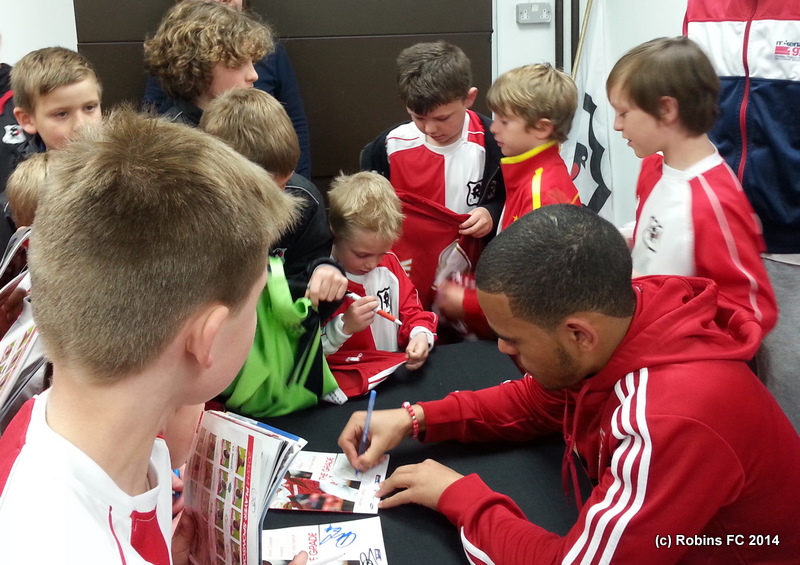 Meeting their heroes - winning goalscorer Louis Thompson signs autographs after the game
After the game, Robins players and parents were treated to an exclusive Q&A compered by Town legend Phil King with Swindon's goalscorer, Miles Storey and our personal club "Pro-Red" ambassador (not to mention Man of the Match!), goalkeeper Wes Foderingham. Predictably, straight after they'd finished answering questions, both were swamped by Robins players eager to get their photos taken with their heroes and get boots, shirts, ticket stubs (and even the occasional autograph book!) signed. As if that wasn't enough, they also got to meet (and similarly nag for photos/signatures) midfielder Lee Cox, manager Mark Cooper and winning goal scorer Louis Thompson. All the Swindon Town players (and Mark Cooper) were generous to a fault with their time, endlessly patient in posing for one photo after another, chatting to the players and making sure everyone got something signed! We can't thank them enough, our young players were thrilled to bits! And finally, as a superb memento of the day, Swindon Town kindly presented club chairman Paul Wainwright with a signed Swindon Town shirt, signed by the whole STFC first team squad!
The whole day was a great day out, and one our young players will not forget in a hurry. Pro-Red is an excellent scheme to introduce youngsters to the excitement of supporting their local team. It's a great way to remind them that football's not just a programme on TV but all the more exciting when you watch it in REAL 3D - live! That's best summed up by the players themselves - one young lad's Dad told his coach - "He hasn't stopped telling people at school all week how he scored a penalty against Rockin Robin, he's still so excited about it", while another parent wrote in an email "He absolutley loved it! What a great opportunity. Not a day he'll forget in a hurry. He told all his friends at school about their day and their parents have all been asking me about it. Thats what makes Robins FC better!". Couldn't have put it better ourselves!
There's a gallery of photos from the day on our photos section here.
And remember, the offer for Robins players, friends and family to purchase discounted tickets to STFC home games through Robins runs till the end of the season - download the application form for tickets here!