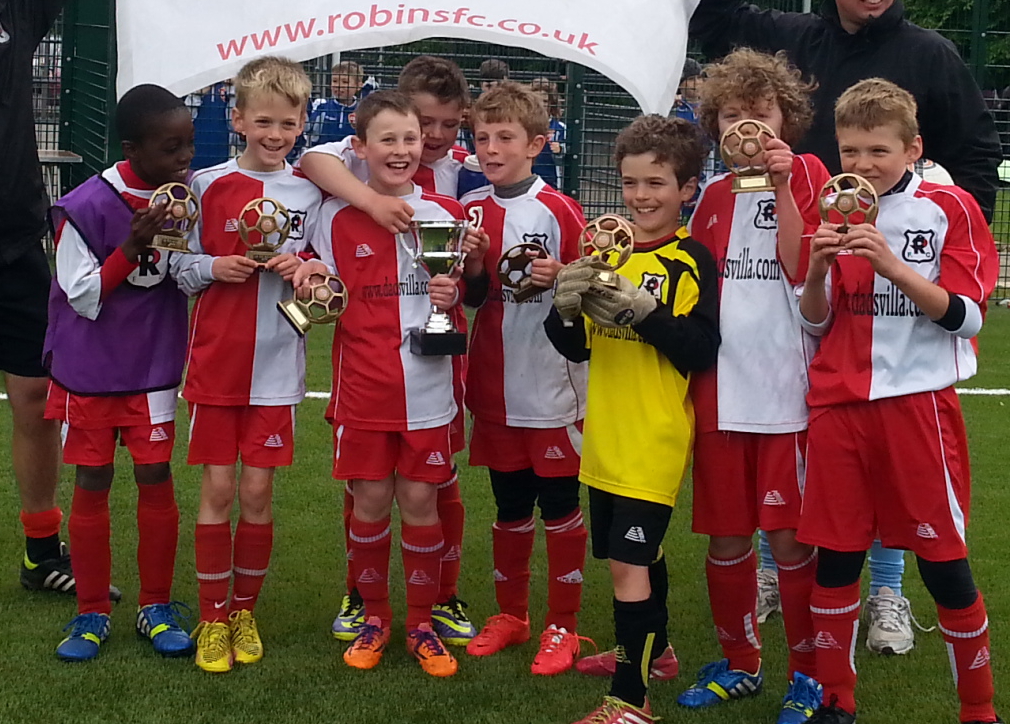 U9s Red celebrate winning their Cup Final
Congratulations to Robins U7, U8 and U9 Red who all won the 3rd and final Trophy Events in their age groups, completing a remarkable Robins treble across all the age groups in the final N Wilts Trophy Events of the season. Robins teams have done tremendously well in this first season of Trophy Events being played - the U7s and U8s are among the very few teams to have won all 3 of their Trophy Events, completing a remarkable 100% record for both teams. At the older age group, U9 Reds won their first Trophy Event and were narrowly beaten to the 2nd by Forest Green Rovers who they then met in Sunday's "Cup final" of the knockout cup format 3rd Trophy Event, for a thrilling climax to the season.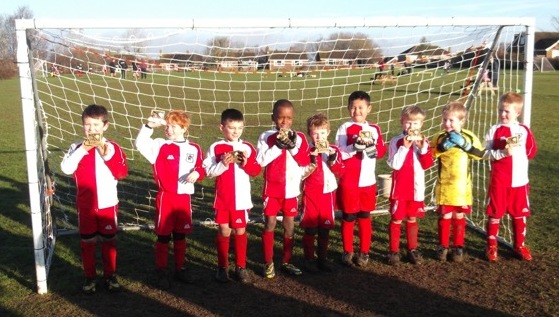 Robins U7s show off their trophies from the 1st Trophy Event
The U7s finished off a brilliant campaign by winning their final trophy event against a strong Highworth side. After a close game Robins were trailing but equalized with 20 seconds to go, to take the game to extra time! They took that momentum into extra time and in the end were convincing winners - great drama and some lovely football by both teams. Coach Justin Varndell commmented "I'm really proud of the team. They have lost only one game in all competitions this season and have done the club proud not only in their play but as importantly in the manner they have conducted themselves." The team now has a summer of tournaments and friendlies leading up to the start of what will hopefully be another fun season in September.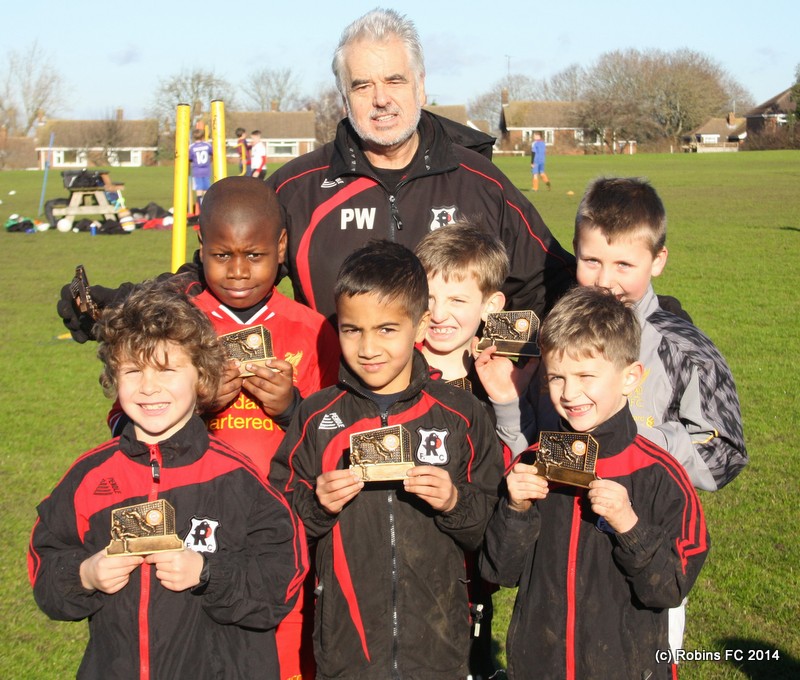 The U8s team with their trophies from the 1st Trohpy Event
Stepping up an age group, the U8s have enjoyed a fantastic season, winning all three of their competitive Trophy events, an amazing achievement especially as some weeks the team has been down to the bare minimum of five players. However, that strong core is the success of the team as they have become a strong and committed group who have improved in both skills and discipline and who collectively work hard together - good teams are always harder to beat than simply assembling a group of players, no matter how talented, who do not play as a team. The team play very much to their strengths as individuals and as a unit and have shown this season they can play in a good shape as a team. The highlight of this final round of the Trophy Events was gaining a convincing victory over a very strong Stratton team on the 3G pitch at Grange Drive, a great performance by all. U8s coach and club Chairman Paul Wainwright congratulated the team, saying "Well done to all my players in the U8s and also thanks to the guardians and parents who have supported Callum, myself and the team through thick and thin this season. We should all be truly proud of all our under 8 Robins players, they've been brilliant!"
And last, but by no means least, U9 Reds capped a very good season with a win in the "Cup final" of the 3rd Trophy Event at Stratton Leisure Centre. The game promised to be a thriller as they faced a very good side in Forest Green Rovers who'd pipped them to the 2nd Trophy Event title in a close game in February and were the only side to defeat U9 Reds all season. And the game didn't disappoint as both teams played out a thrilling encounter, with some lovely flowing creative football played by both sides. In the end, Robins ran out winners, albeit having to ride out a late Forest Green Rovers comeback. A terrific game to end a very good season, most importantly all the players have played some great football, all have developed during the course of the season and had loads of fun along the way! You can read more about this game and all U9 Reds' matches throughout the season in the Match Reports section of the U9 Reds page
The idea of the "Trophy Events" is an FA initiative arising from the recently adopted "Youth Development Review", a two-year study of how best to promote development in youth football in this country. The aim is to allow younger age groups to gradually get used to playing competitive football. Previously, teams would go from playing two years of development/friendly games where no results or League tables were published, straight into a 20+ week season-long league competition; in contrast, Trophy Events aim to introduce the competitive element gradually and intersperse competitive fixtures with development league fixtures.
So this season the U9s have played 3 Trophy Events, the first two being 3-week "mini-leagues", with the final one being a 4-week knockout cup format, making 10 weeks of competitive football in all. While the U7s and U8s also took part in 3 Trohpy Events, but shorter in duration, each comprising just two games. The aim is to give the younger age groups a taste of competitive football, but without the pressure a full season-long competition can somtimes exert on what are still very young players. Hopefully it will aid all the players' development which can only lead to a stronger league - certainly here at Robins FC our teams have fully embraced this new intiative with some gusto!
Further information on the FA's Youth Development review is available on the FA's main Youth Development Review page and locally on the Wilts FA website