Robins U12s kicked off their summer tournament season in great style today, winning the prestigious Wootton Bassett 6-a-side tournament in a nail-biting penalty shoot-out.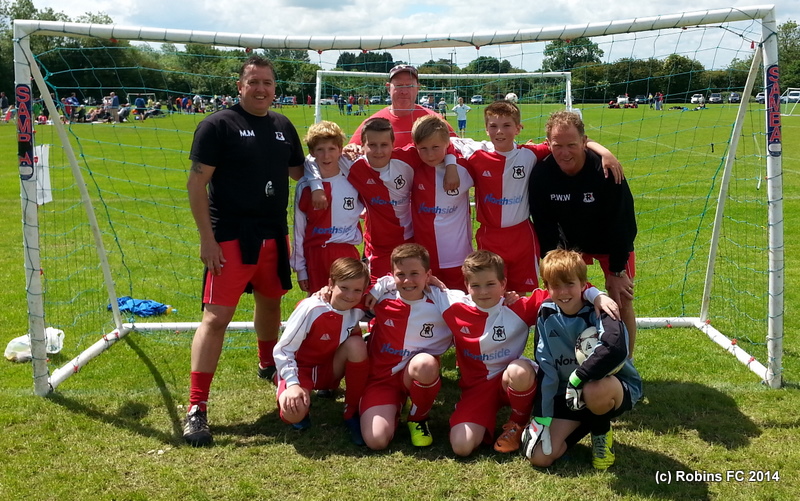 With several new recruits to integrate into the team, the main objective today was to gel as a team, to express ourselves on the pitch and obviously to have some fun. We certainly met those targets - all 8 of our players were outstanding in every game, not only did we gel as a team but everyone battled for each other from the start to the finish of the tournament and we played some really attractive football along the way.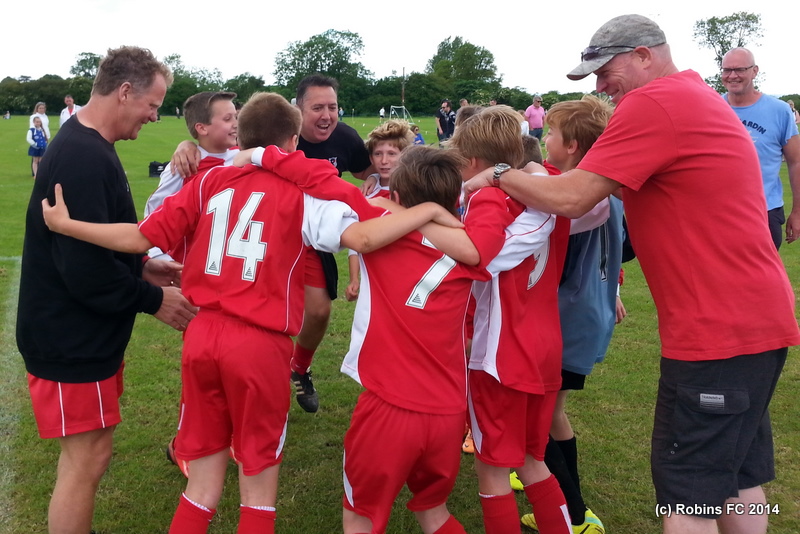 Championes! Championes!
We played five games in the group stage, and topped the group, winning four and drawing one game against a side who finished 3rd in Div 1 last season. A special mention to stand-in keeper Harry Thomas for a stunning penalty save to secure the win in the second game, just one of many brilliant saves today in a heroic peformance. And the whole team for a magnificent fightback from 1-0 down to win 2-1 against Castle Coombe who were so strong in the League last season - no mean feat in 8 mins!
Match 1 : Robins 2 Wootton Bassett 0 (Ben P x 2)
Match 2 : Robins 1 Ferndale 0 (Ben T; Harry T Pen save)
Match 3 : Robins 0 Abbeymead 0
Match 4 : Robins 2 Castle Coombe 1 (Luke W, Joe M)
Match 5 : Robins 1 Blunsdon 0 (Ben P)
So as group winners, we progressed to the quarter final where we met a confident Shaw side. Both teams battled hard and could not be split. The match finished 0-0 after extra time. Two superb penalties and two great saves from Harry T saw us in to the semi final.
[strong] [em]Quarter final[/em] [/strong] : Robins 0 Shaw 0 a.e.t Robins win 2-1 on pens: Joe M , Ben P
In the semi final we faced a much-fancied Devizes side and again both teams battled well in what was a very even contest and once again the two teams couldn't be split even after extra time. Penalties once again! Our three chosen penalty takers each despached text-book penalties giving their keeper no chance and once again Harry T did his bit pulling off an excellent save to put us into the final - legend!
[strong] [em]Semi final[/em] [/strong]: Robins 0 Devizes 0 a.e.t Robins win 3-2 on pens : Luke W, Joe M , Ben P
The instruction to the players for the final was to go out and express yourself and enjoy the occassion as we once again faced Abbeymeads. Another extremely close and even game with all players on both sides battling for every ball as it seemed that no one wanted to leave anything out on the pitch. Again we took the game into extra time and, again, still the teams could not be split. We were getting used to penalties now and confidence was high, Luke and Joe M once again struck perfect penalties and their second taker hit the post. Ben P stepped up and with nerves of steel slotted home to win us the Tournament.
[strong] [em]Final:[/em] [/strong] Robins 0 Abbeymead 0 a.e.t Robins win 3-2 on pens : Luke W , Joe M , Ben P
After shaking hands and commiserating with Abbeymead followed by a couple of verses of "CHAMPIONES" we were presented with our trophies. Manager Mark Martin commented "An absolutely brilliant performance from EVERY member of the team all of whom were on top form. A special mention to Harry Thomas who stood in as goalkeeper today and played an absolute blinder. Well done to everyone today. Pete and I were extremely proud of all of you."
A small gallery of photos from the day is in our U12s photos section here.