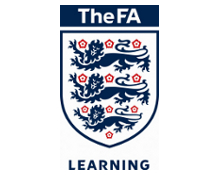 ... you wait months for a new one, and then four come along at once! Congratulations and a warm welcome to the Robins FC coaching team to Antony Rutzler, or Rutz as he's affectionately known, Warren Messenger, Matt Richards and Phil Trueman. Rutz, Warren and Matt have all just succesfully completed their FA Level 1 Coaching certificates, to enable them to formally take up their roles with U7s Red (Rutz, assisting Trevor Heffernan) and the U8s White team (Warren and Matt). Phil has no need of the Level 1 course, as he passed his Level 2 course some years ago, and is no stranger to Robins - Phil was one of the "Class of 91", the first ever Robins team who's success laid down a benchmark for all the successful teams who have followed in their footsteps since. We're delighted to welcome him back now as a coach, taking charge of the U7s White team.
All Robins FC coaches have to attain the FA Level 1 as part of our certification as an FA Charter Standard club which means parents can rest assured their children are being trained by qualified coaches in a safe and fun environment. It's also a concrete demonstration of Robins FC's ongoing commitment to ensuring our coaches have the best possible level of support in their development as they in turn seek to develop our young players to reach their maximum potential.
Club chairman Paul Wainwright congratulated the 3 newly qualified coaches on their achievement, and welcomed Phil back to the club commenting "Warm congratulations to Antony Rutzler, Warren Messenger and Matt Richards in passing their L1 coaching course, the whole club welcomes them to our band of Robins coaches. I believe it is excellent community work football clubs achieve not only empowering young people to play but in addition, enabling parents and guardians to be involved like this. As a club, we have always shown we are prepared to motivate and support this development for parents and players and this is just further evidence of that commitment. I'm also very pleased to extend an especially warm welcome to Phillip Trueman who rejoins our club as an ex-player who played in the Robins first ever (1991) legendary team. He joins us with existing L2 qualification and is working with the U7s age group, alongside Trevor and Antony."