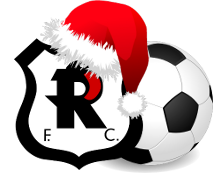 Christmas is a special time of year for all of us, a time to enjoy the company of family and friends, but also to remember those less fortunate than ourselves. As reported in the report on our recent Christmas party Robins parents responded to the spirit of the season by kindly donating a huge amount of food for the homeless.
Robins chairman Paul Wainwright with Christmas Care Chairman Patsy Maloney, young players Toby and Alex, and Santa!
In total, we filled 3 massive boxes with all sorts of food that will go a long way to ensuring that some of the lonely and homeless folk of the area are well looked after this Christmas, thanks to the sterling efforts of Christmas Care chairman, Patsy Maloney and his fantastic team of volunteers. The food donated included staples such as rice and pasta, healthy orange juice and tins of fruit and vegetables, as well as some treats like chocs and cakes!
Robins chairman Paul Wainwright with Christmas Care Chairman Patsy Maloney, and young players Toby and Alex with some of the food Christmas Care have collected this year
So on the weekend before Christmas, our chairman Paul Wainwright along with U7s manager Phil Trueman and young players Toby And Alex took the donated goodies to the Christmas Care shelter, based out of the Methodist Church on Queens Drive, and handed them over to Christmas Care chairman, Patsy Maloney. Thanks to Jade, our Events Coordinator, and Clare, proud Mum of Ethan, the U9s captain who took the time to decorate the boxes in festive wrap to emphasise the spirit of giving.
Paul commented "Here at Robins, we never forget that we are part of a wider community. Football is our focus, but community is at our core. We're always mindful of that and helping out with schemes like this is an essential part of that responsibility. Many thanks to all the parents who made the effort to donate food to this excellent shelter at this special time of year". More information on the Christmas Care Shelter is available here
If you'd like to make a donation to Christmas Care, please see the website or drop your donation into Christmas Care at the Pilgrim Centre, Queens Drive Methodist Church, Queens Drive, Swindon (map on the Christmas Care website here from 9 am on Tuesday 23rd December.