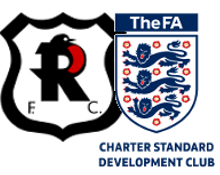 Robins FC are proud to announce that their commitment to developing young footballers has been recognised by the FA with the award of the prestigious FA Charter Standard Development status to the club. The award makes Robins one of less than a dozen FA Charter Standard Development clubs in Wiltshire.
Club chairman Paul Wainwright recieves the award from Wiltshire FA's Clive Archer
The award was presented to club chairman Paul Wainwright by Wiltshire FA Council member Clive Archer at the club's annual end of season awards event on Sunday 7th June, in front of approximately 250 players and parents. After formally handing over the award and making a short speech in which he explained a little about what the Charter Standard Development status means, Mr Archer was kind enough to stay and help hand out medals and trophies to the players, adding to an already exciting day for the young players.
Wiltshire FA's Clive Archer with some of the players who recieved medals and trophies on the day
Club chairman Paul Wainwright explained "The FA's Charter Standard programme is aimed at driving up the standards in youth football by ensuring a baseline of best practice in all junior football clubs and we are pleased that most clubs in the area have signed up to this and are now recognised as FA Charter Standard clubs. At Robins FC, we attained Charter Standard status some years ago but we didn't want to just rest on our laurels, so we looked at going to the next level by applying for Charter Standard Development status. There's a fair bit of extra work involved, as we have to demonstrate our commitment as a club to developing all of our teams, the coaches who work with those teams and of course, most importantly, the players at the club."
He continued "It's taken us over a year since we first started looking at this to get our application up to scratch, involving producing a Football Development Plan for how we will develop the club, the teams, the coaches and the players, as well as ensuring our policies and procedures and even our club constitution were up to scratch and in line with best practice as recognised by the FA. And, of course, ensuring all our coaches are fully qualified and to the standards demanded by this additional step up from Charter Standard Club to Charter Standard Development Club. It's been a lot of work, but we've learned a lot along the way and we're delighted that this award now recognises the hard work and commitment that all of our coaches and volunteers put in week in, week out - this award demonstrates that we're prepared to go the extra mile to give our young players the best possible experience of learning and playing football."