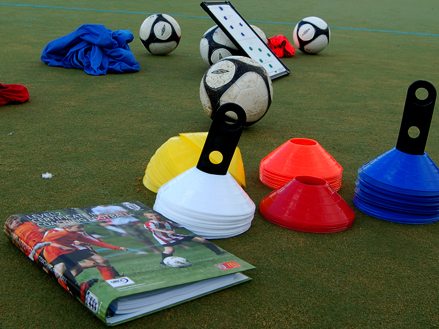 Congratulations and a warm welcome to the Robins FC coaching family to Tom Bailey who has recently completed his FA Level 1 coaching courses. Tom joins Luke and Ryan in the U7 coaching team who served a thorough "apprenticeship" last season under club chairman Paul Wainwright in coaching the "start-up" U6s group. There's few better coaches to learn from, as Paul boasts 25 years' experience in coaching youth football.
Now that Tom also has his Level 1 "badge" the U7s coaching team is complete and they will be able to take the team as they step up to their first season of league football. They will continue to work with Paul to ensure the U7s get off to the best possible start to enjoying their league football.
Supporting parents to train as coaches is just one of the ways in which Robins FC demonstrates our ongoing commitment to ensuring our coaches have the best possible level of support in their development as they in turn seek to develop our young players to reach their maximum potential. We wish Tom the very best of luck in his new role, in which he'll be supported every step of the way by all the Robins FC coaching team. Congratulations Tom, we're delighted to have you on board!
All Robins FC coaches have to attain the FA Level 1 as a minimum (although many of our coaches are qualified to a higher level) as part of our certification as an FA Charter Standard club which means parents can rest assured their children are being trained by qualified coaches in a safe and fun environment.