Players and parents from Robins FC celebrated at the annual Christmas party on Sunday, in an event enjoyed by young and old alike. As in previous years, we were fortunate to be able to use the Legends Lounge at Swindon Town's County Ground base, and grateful thanks go to our chairman, Paul Wainwright, and Swindon Town of course, for enabling this.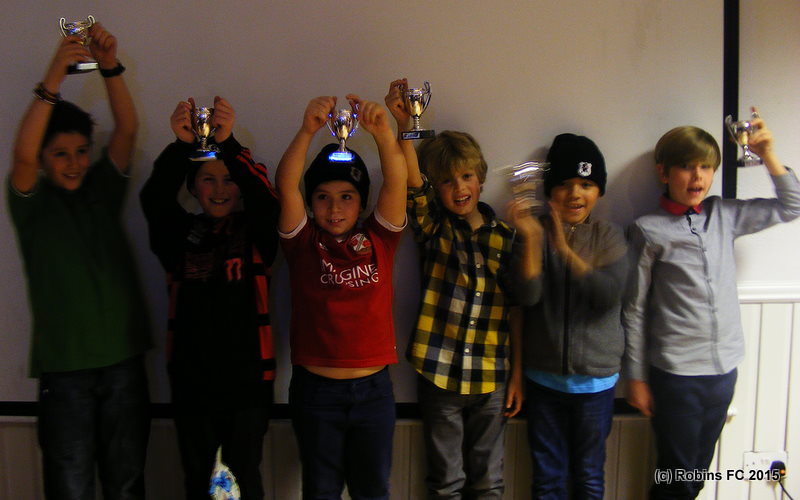 Robins U10 Whites with their Winter Trophy Event trophies which were awarded on the night
Entertainment on the night included the ever-popular raffle with some super prizes donated by parents, a junior disco for the youngsters (and those parents brave enough!), and of course a visit from Father Christmas!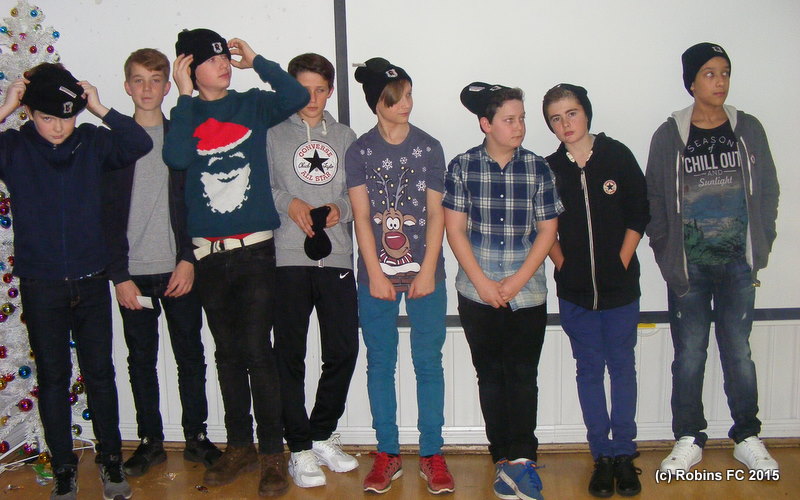 U14s get all mean moody and magnificent as they practice their boy band poses
It was a really fun event, and a nice chance for the different teams and parents to socialise together, as well as raise some funds for the club. As last year, we also remembered those less fortunate than ourselves with a collection of tins of food for a local homeless shelter - thanks to everyone who donated! Later in the week, Paul Wainwright dropped the donations into Christmas Care as you can see from the photo below. We were also joined again by representatives of CALM, our chosen charity partner, and it was nice to be able to present them with a cheque from the players' collection at Tesco last month which raised over £900 for the charity!
Club chairman Paul Wainwright hands over food donated by Robins players and parents to the Christmas Care shelter
The Christmas party, and many events like it, wouldn't be possible without a lot of hard work behind the scenes so special thanks to all those who did so much hard work to make this party happen and keep the club running throughout the year, club Secretary Theresa Trueman, Club Treasurer Alison Paul and Club Chairman Paul Wainwright. Not forgetting all the parents who support their children and the teams so diligently throughout the year, the managers and, of course, the players themselves who once again were a credit to themselves and the club.
Merry Christmas and a Happy New Year to all connected to Robins Football Club, players, parents, coaches and officers and indeed everyone working to help children enjoy the game of football!