Congratulations to Robins U7 and U8 Red who have been confirmed as winners of their Winter Trophy Event competitions. They join their colleagues in the U9 Red, U10 White and U11 Red to complete a clean sweep of Robins victories in every age group from U7 to U11, a quite remarkable achievement for the club.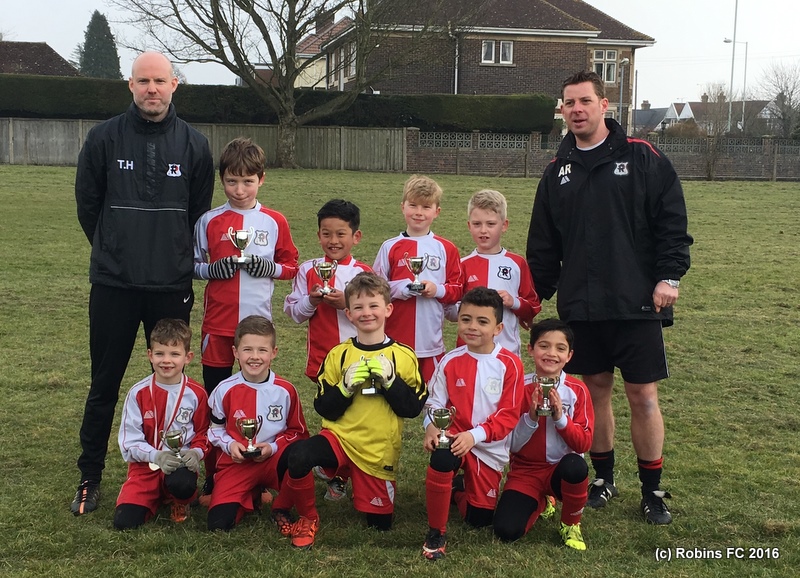 The successful U8 Red team with their well-deserved Winter Trophy Event trophies
This was the first ever cup competition for the U7s, a mini knockout competition of 4 teams. The boys faced Stratton in the semi, and won their place in the final against a strong Ramsbury side. On the day, everyone was very excited, but the boys still listened very well to Tom, Luke and Ryan and that attention and focus paid off as the boys went on to win the game comfortably, with 4 goals from Omaree and another from Sol. A full match report is available here, but suffice to say the lads played some great football and thoroughly deserved to win their first ever cup competition.
Stepping up an age group, U8 Reds have enjoyed another fantastic season, winning the Autumn Trophy Event and now following it up by winning the Winter Trophy Event to boot. Again, the format was a four-team knockout tournament, played on the 3G at Stratton Leisure Centre and the lads took full advantage of the surface to show off their passing game. It wasn't just good skills they needed to show, they also needed to demonstrate their resilience as they initially went behind in the semi final against Marlborough. It would have been easy for such young players to let their heads drop but instead they battled their way back into the tie to set up a final against Supermarine the following week. Again some nerve was called for as the lads saw an initial two goal advantage wiped out and it's not uncommon to see such young players lose their nerve in the face of the momentum being against them, but not this team and they went on to win comfortably. Fantastic play and a great achievement to win back to back Trophy Events. A full match report is available here.
There aren't many clubs that can claim to have a winner in every age group of the Trophy Events and we're very proud of all our young players, both those that have been fortunate enough to win a Trophy Event this time round, and those who just missed out. As long as they keep working hard, working for each other and enjoying learning their football, they're all winners to us!
The idea of the "Trophy Events" is an FA initiative arising from the recently adopted "Youth Development Review", a two-year study of how best to promote development in youth football in this country. The aim is to allow younger age groups to gradually get used to playing competitive football. Previously, teams would go from playing two years of development/friendly games where no results or League tables were published, straight into a 20+ week season-long league competition; in contrast, Trophy Events aim to introduce the competitive element gradually and intersperse competitive fixtures with development league fixtures.
So this season the U11s will play 3 Trophy Events of approx 6 weeks each, making around 18 weeks of competitive football across the whole season; the U10s and U9s age groups will play 3 Trophy Events each consisting of 3-4 weeks of competitive football, making between 9-12 weeks of competitive football in total; while the U7s and U8s will also take part in 3 Trophy Events, but shorter in duration. The aim is to give the younger age groups a taste of competitive football, but without the pressure a full season-long competition can somtimes exert on what are still very young players and then gradually increase the length of the competitions year on year until finally the players take on a full season-long league at U12.
Further information on the FA's Youth Development review is available on the FA's main Youth Development Review page and locally on the Wilts FA website