Robins are delighted to announce we have once more linked up with Swindon Town in the popular "Pro Red" scheme, designed to encourage links between STFC and youth football clubs and enable parents and friends of players to buy tickets for Swindon Town games at a special discounted rate.
Flying the flag for Robins - players parade around the pitch at last year's ProRed game
The highlight of the package is our nominated "Pro Red Day" when all Robins teams go to a designated Swindon Town game as a club. Last season's "Pro Red Day" was a huge success as you can read here, and this season's promises to be just as much fun. This season we have selected the home game against Chesterfield on Saturday 23rd April, a game which could yet be vital in what promises to be an exciting climax to the season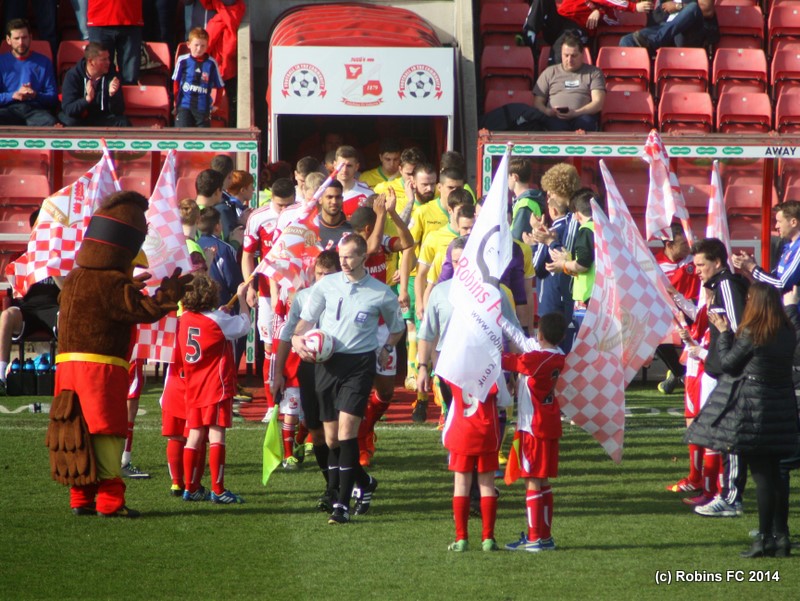 Robins players form a guard of honour as the players and match officials come out
The benefits of the "Pro-Red" scheme include:
Club day out at a Swindon Town match, Robins teams will take part in pre-match and half-time activities on the pitch – as stated above we have chosen the Yeovil game in April, full details will be given nearer the time, but for an idea have a look at the report from last season's day out
"Player ambassador" - clubs participating in the scheme get to nominate a first team player to act as their "player ambassador". Last season, we chose popular Town captain Nathan Thompson and after the game our players were able to meet not just Nathan, but also manager Mark Cooper and the game's Man of the Match, Ben Gladwin
Discounted tickets to Swindon Town home games for all Robins players and their families, with Robins getting a percentage of all sales! Adult tickets booked under the scheme are £15 (usually £25 in the main stands), Concessions just £10 (usually £19) and child tickets are just £5 (usually £12) – that's less than half price! Save yourself some money and raise money for the club at the same time – you can't lose!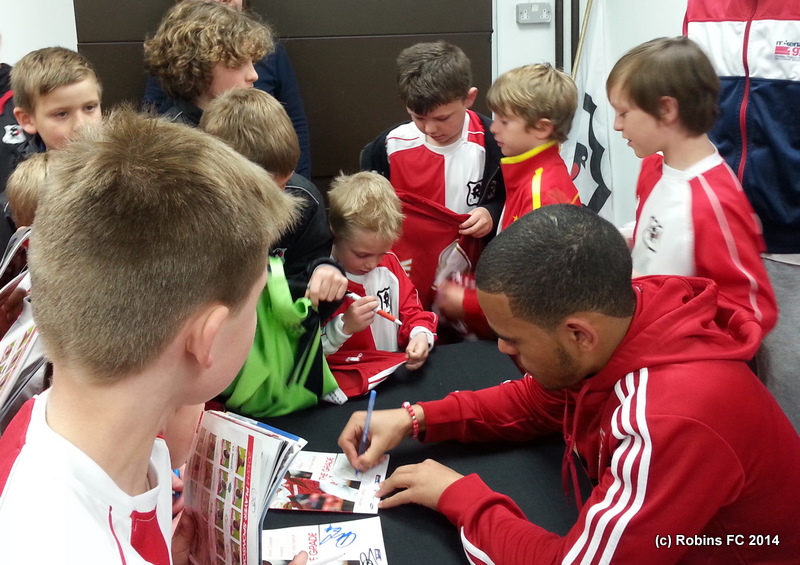 Meeting their heroes - winning goalscorer Louis Thompson signs autographs after the game
There's no limit to the number of times you can book and no maximum limit on the number of people in your party, but as this is a block-booking scheme Swindon have asked that we book a minimum of 10 tickets at a time. At a fiver per kid, you could even use this initiative to allow your football-mad kid to take all their friends to the football for their birthday party! If you'd like to book tickets for the ProRed Day vs Chesterfield, please download the flyer and booking form from here. If you'd like to take your own party to a different game and still benefit from the Robins "Pro-Red" discount, please download and fill out the form on this leaflet, indicating how many tickets you'd like, for which game and which stand you'd prefer to sit in and hand it together with payment IN FULL to your team manager at least two weeks prior to the game you'd like to attend. If you have less than 15 in your party, please ask as it may be that other parties want to book for that day too - e.g. if we have 2 parties of 5, that would make the 10 minimum so please do check - you may make up the numbers we need!If you have any questions, please see your team manager. NB These discounts are ONLY available when you book via Robins FC!
Read more at the STFC website uor download the application form for tickets here!. NB You can ONLY book tickets via your team manager - please DO NOT just turn up at the ticket office with the application form as you will not be able to access Pro Red tickets that way.