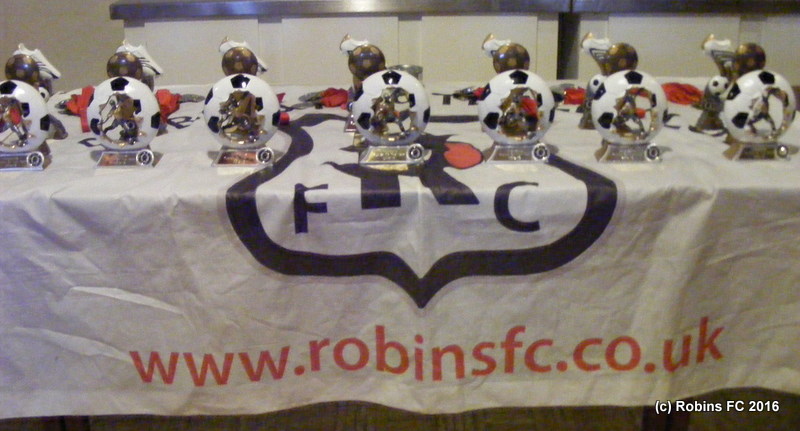 This year's Robins FC End of Season Presentation party was held at Supermarine Sports and social club, where our young players took advantage of the space outdoors to play outside before and after! The event was bigger than ever, with 12 teams across 8 different age groups taking part, reflecting our success in recent years as the club goes from strength to strength. This was recognised at last year's end of season awards when we were awarded Charter Standard Development Club status by Wiltshire County FA, recognising that Robins FC go the extra mile to develop both our players and our coaches.
The successful U15s side cut a dash in their smart outfits
This has been a successful season across all the age groups - Robins teams in every age group from U7s to U11s won their Winter Trophy Events, while U9 Reds went undefeated all season, winning all 3 of their Trophy Events. Meanwhile at the other end of the age scale, our oldest team the U15s won promotion to Div 1 after a remarkable 11-game winning streak. There's been success in the summer tournaments too, with Robins teams winning tournaments at U7, U8, U9 and U11 age groups.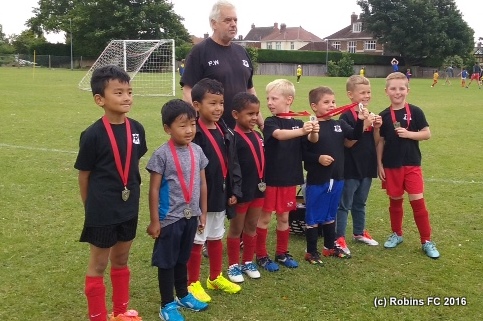 But while it's nice to win tournaments and trophies, we measure the club's success in the growth and development of the young players who proudly turn out in a Robins shirt every week - that's worth more than any amount of trophies! The core of the club's philosophy remains as it always been to provide young players with the enjoyment of playing good football and to develop each player to their full potential. And that was fully reflected in a fun afternoon, very much enjoyed by all present. Our thanks to the Supermarine Sports and Social Club for hosting us, as well as our chairman, secretary, treasurer and managers for all their hard work throughout the season to enable so many young players to enjoy their football and of course parents for their tremendous support! But most of all to the players themselves - without their efforts and commitment, there would be no club! We look forward to another enjoyable and successful season in 2016-17 and wish all our players all the very best for the coming season.
A small gallery of photos from the party is available here