Congratulations to Robins U9 Reds, U9 Whites, U10 Reds AND U10 Whites, who have all won their groups in the N Wilts League Autumn Trophy Event, the first Trophy Event of the 2016-17 season. It's a fantastic achievement for the teams themselves, obviously, but also amazing for the club to have all four teams at U9 and U10 win their Trophy Events. It's a real testament to the development work being done at all age groups within the club.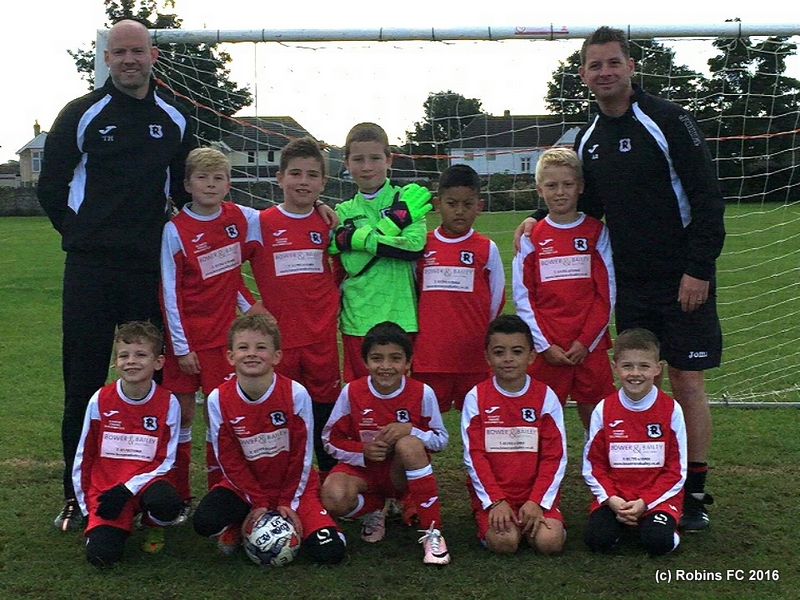 The successful U9 Red team
U9 Red
Robins Red U9 made it three Trophy Event wins in their last four events as three excellent performances saw the team secure silverware in the early autumn Trophy Events. The campaign got off to a flying start with an away win at Hungerford, before returning home to Lawn to take on Stratton Jrs Wolves and then on the road again at Chiseldon. Three very different games. Lots of different questions asked of the boys and positive answers provided every time! You can read full match reports on all 3 games on the team's
match report page
; not every player gets a personal mention in every match report, but this is genuinely a squad of 10 strong performers with all players making outstanding contributions and all playing a significant part in the winning the Trophy. So huge congratulations to Charlie, Fraser, Harry, Jaydan, Lewis, Luca, Mikey, Ned, Reuben and Sonny. We're very proud of the effort and achievement of every one of you.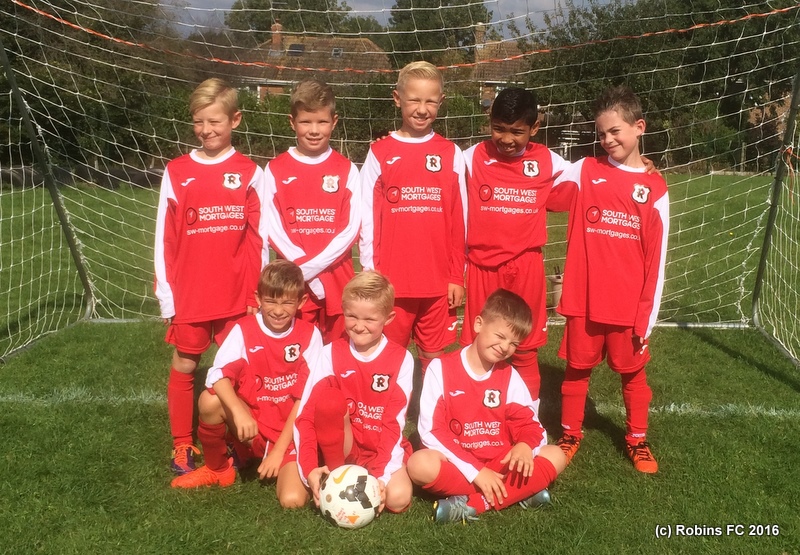 The successful U9 White team
U9 White
We have moved from 5 aside football to 7 aside on a larger pitch this year and what a start the boys have had. Our first match of the season was a trophy event home to Wootton Bassett and well it was a game we bossed from start to finish, with goals coming from everywhere but also keeping a clean sheet was just as pleasing. The football played by both teams was lovely to see but we were just too strong and won comfortably. Next up were South Cerney, a side we have never met before so we were not sure what to expect. It was not long before we took complete control of this match and again found ourselves leading comfortably, another clean sheet was very good as it shows our defensive work is just as important as attack. This game could have been a huge winning score for us if not for the opponents' keeper, he had a blinder. The football this young Robins team is showing is a joy to watch and you just don't want the games to end. All boys are really growing up and showing great individual performances but even better team play. They are deserved winners of their first trophy event of the season. A huge well done to all.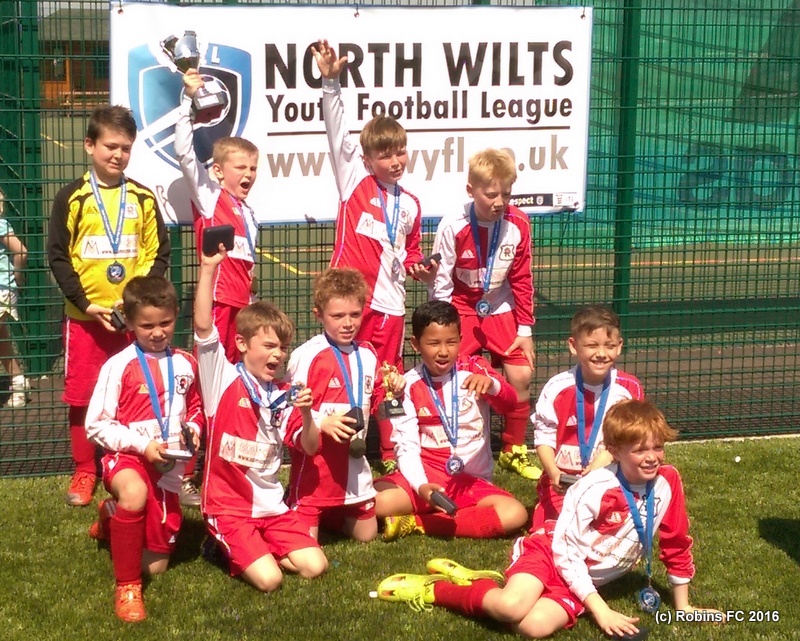 U10 Red shown celebrating winning last season's Spring Trophy Event
U10 Red
Robins U10 Red won their first trophy event of the season after a hard fought tie at Forest Green. Both sides had won their previous group games so it was a "winner takes all" tie.After a goalless first half, Forest Green took a second half lead which they held on to until 2 mins to go when a change to 2 up front paid off as Harry found some space to equalise. With the guys now on a high they made a quick start to extra time with Billy scoring early,this was to prove to be the winner. Well done to all concerned!
U10 White before their match against Highworth
U10 White
Robins U10 White started their campaign away to Highworth C, and after a slow start the boys started to dominate the game, which ended in a comfortable win with all boys contributing to the goal tally. Next the lads were at home to South Cerney Black, who proved a tough team to break down and deployed Mourinho like tactics of "parking the bus", 0-0 at half time. But Robins continued to play football and the game opened up in the 2nd half with South Cerney tiring, and ended in another convincing win for the boys. The final game was away to Wootton Bassett to decide the Trophy Event, a couple of early goals ensured the pressure was off and Robins continued to play football with a few great team goals added. Across the 3 games, the lads scored a total of 31 goals and conceded only 1! Well done to all concerned!
The idea of the "Trophy Events" is an FA initiative to allow younger age groups to gradually get used to playing competitive football. Previously, teams would go from playing two years of development/friendly games where no results or League tables were published, straight into a 20+ week season-long league competition. The aim of the Trophy Events is to introduce the competitive element gradually and intersperse competitive fixtures with development league fixtures.
So this season the U11s will play 3 Trophy Events of approx 6 weeks each, making around 18 weeks of competitive football across the whole season; the U10s and U9s age groups will play 3 Trophy Events each consisting of 3-4 weeks of competitive football, making between 9-12 weeks of competitive football in total; while the U7s and U8s will also take part in 3 Trophy Events, but shorter in duration. The aim is to give the younger age groups a taste of competitive football, but without the pressure a full season-long competition can somtimes exert on what are still very young players and then gradually increase the length of the competitions year on year until finally the players take on a full season-long league at U12.
Further information on the FA's Youth Development review is available on the FA's main Youth Development Review page and locally on the Wilts FA website