Congratulations to Robins U9 Whites who have followed up on a successful Autumn Trophy Event campaign by also winning the Winter Trophy Event, making it a 100% 2 out of 2 this season. The lads were playing in a 4 team group, with the other 3 teams being Northleach, Wims Foothills and Ashton Keynes, three teams U9 White have never faced before.The boys were clearly undaunted by unknown opposition, as they won all their games comfortably only conceding 1 goal!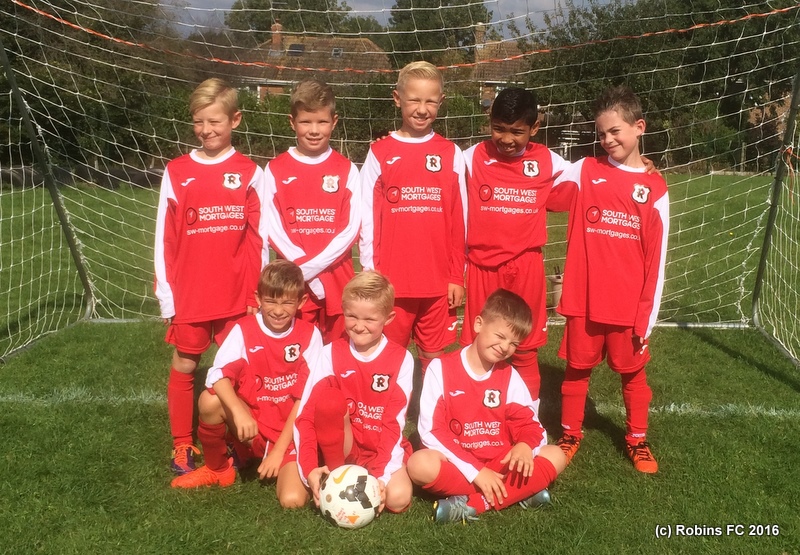 The successful U9 White team
Our 1st game was against Wims, new to the league but with the academy they run they have a large selection of boys to pick from and they were very confident they could beat us. We are lucky to have a great little side who have only been beaten once this season so we were not worried. The opposition soon found out we are a side to be reckoned with and we came away with a convincing win and a clean sheet, thanks to a great team performance
Next we were away to Northleach who had also won their first match so this looked to be a tough game. It was a very cold morning and a long trip, they play on a very small pitch so it was going to be tough finding space. Credit to the boys as they kept a clean sheet and won comfortably again. The opposition management said they have not played a team as good as ours and that they had been taught a real football lesson.
Our final match was away to Ashton Keynes and I had my worries as they could only field 6 players meaning we had an extra sub to match up. We needn't have worried as we were comfortably in control of the game within a few minutes of the kick off and wrapped up a 3rd win out of 3 to seal our 2nd consecutive Trophy Event of the season.
The boys were worthy winners of their Trophy Event group and were a real credit to themselves and Robins FC. Fantastic stuff boys!
The idea of the "Trophy Events" is an FA initiative to allow younger age groups to gradually get used to playing competitive football. Previously, teams would go from playing two years of development/friendly games where no results or League tables were published, straight into a 20+ week season-long league competition. The aim of the Trophy Events is to introduce the competitive element gradually and intersperse competitive fixtures with development league fixtures.
So this season the U11s will play 3 Trophy Events of approx 6 weeks each, making around 18 weeks of competitive football across the whole season; the U10s and U9s age groups will play 3 Trophy Events each consisting of 3-4 weeks of competitive football, making between 9-12 weeks of competitive football in total; while the U7s and U8s will also take part in 3 Trophy Events, but shorter in duration. The aim is to give the younger age groups a taste of competitive football, but without the pressure a full season-long competition can somtimes exert on what are still very young players and then gradually increase the length of the competitions year on year until finally the players take on a full season-long league at U12.
Further information on the FA's Youth Development review is available on the FA's main Youth Development Review page and locally on the Wilts FA website