Congratulations to Robins U10 Red who for the second year running have made it through to the final of the knockout cup format Spring Trophy Event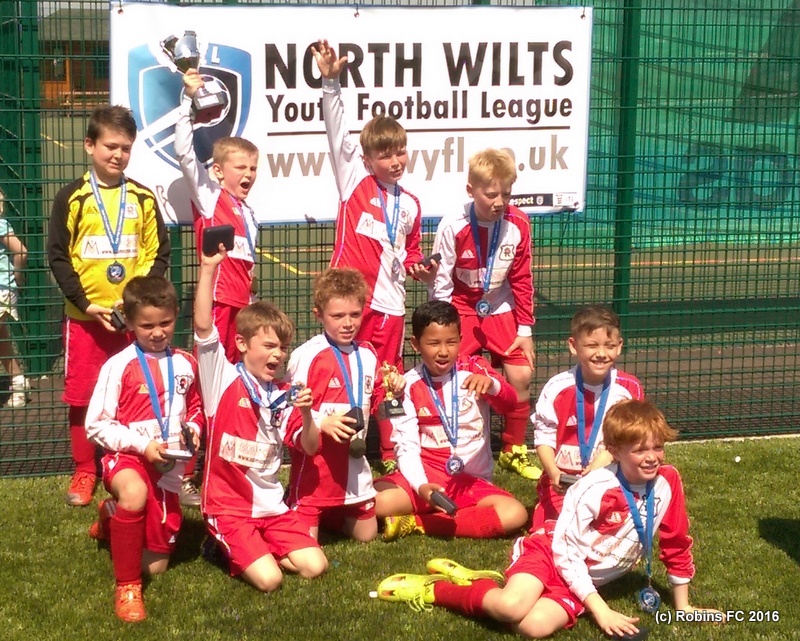 The successful U10 Red team at last year's Trophy Event final
After a tough opening draw against last year's final opponents Greenmeadow City, which was decided by a solitary 2nd half goal the boys have not looked back and secured their final spot with a 3-1 victory at Forest Green last weekend.
This game was a particularly good advert for youth football, with both sides being closely matched and the game eventually turning on Alfie's first time rocket from distance and captain Jack's goaline clearance.
Congratulations to all concerned and everyone is looking forward to next weeks final against Newbury. The game will be played at fantastic new facility at Gerard Buxton Sports ground in Royal Wootton Basset, on Sunday 7th May, with an 11.15 k/o.
The idea of the "Trophy Events" is an FA initiative to allow younger age groups to gradually get used to playing competitive football. Previously, teams would go from playing two years of development/friendly games where no results or League tables were published, straight into a 20+ week season-long league competition. The aim of the Trophy Events is to introduce the competitive element gradually and intersperse competitive fixtures with development league fixtures.
So this season the U11s will play 3 Trophy Events of approx 6 weeks each, making around 18 weeks of competitive football across the whole season; the U10s and U9s age groups will play 3 Trophy Events each consisting of 3-4 weeks of competitive football, making between 9-12 weeks of competitive football in total; while the U7s and U8s will also take part in 3 Trophy Events, but shorter in duration. The aim is to give the younger age groups a taste of competitive football, but without the pressure a full season-long competition can somtimes exert on what are still very young players and then gradually increase the length of the competitions year on year until finally the players take on a full season-long league at U12.
Further information on the FA's Youth Development review is available on the FA's main Youth Development Review page and locally on the Wilts FA website