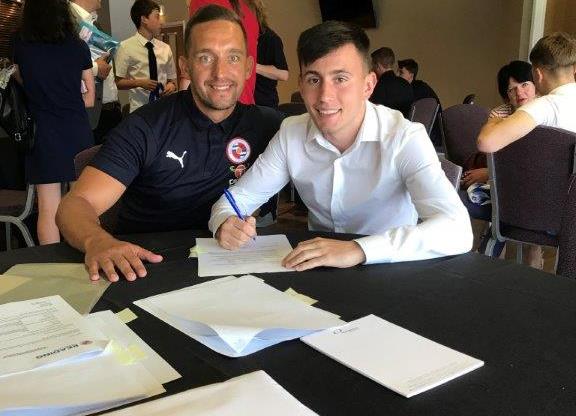 Jordan signing for Reading
Congratulations to ex Robins Captain Jordan Murray who has signed as a Scholar for Reading FC, the final stage after Academy on the journey to becoming a fully-fledged professional footballer!
As Robins Captain, winning the U11 Wiltshire County Cup
This is the culmination of lots of hard work and sacrifice made by Jordan and his family. Jordan started with Robins FC as an Under 6 in the 2007/2008 season playing in the "Robins Red" team through to the end of the Under 11 season. During this time the team won the Under 9 Division 1 title (2011), Under 10 Division 1 Runners-up (2012) and finishing off as Wiltshire County Champions at Under 11's in 2013.
His name up in lights!
Jordan was scouted by Reading FC and was signed on a 2 year program as an Under 13 in September 2014. He quickly impressed and helped the Under 14's win the Nike Trophy qualifiers at St George's Park thus reaching the Nike Trophy Final in April 2015 which was played at Wembley Stadium versus Arsenal U14's. Jordan was also placed on the stand-by squad for England U15's in the season 2015/2016.
Jordan was then offered a further 2 years at Reading FC moving onto the full-time program. This resulted in Jordan moving from the family home into digs at the age of 14 and moving to a new school in Reading. Jordan would return home to Swindon on a Friday evening, traveling back to Reading on a Saturday or Sunday to play the weekly game and then return back to Reading on a Monday morning. A very tough time for Mum!
During these 4 years, Jordan has played in various other tournaments across Europe facing teams such as Athletico Madrid, Benfica, Sporting Lisbon, PSV Eindhoven to name a few.
In December 2017, Jordan was offered a scholarship which he duly accepted and was officially unveiled as one of the 12 scholars for the 2018/2019 season on 2nd July 2018.The next stage of his dream to become a professional footballer started on 3rd July.
A special mention to club chairman Paul Wainwright who took on the start-up team as Under 6's back in 2007 which included Jordan, guiding his first steps in the game. Dad Dave commented "Paul instils some very good habits in these start-up teams before handing over to newly qualified coaches (normally Dads) to continue the journey. This is something Paul is still doing to this date. Well Done and Thanks Paul !!". Dave is too modest to mention he played no small part in Jordan's development during his time at the club, managing the successful Robins team that Jordan captained so well. Congratulations to the whole Murray family, but especially Jordan, from everyone at Robins - we look forward to watching the next stages of your journey in football!
A gallery of some special moments from Jordan's time at both Robins and Reading can be seen here