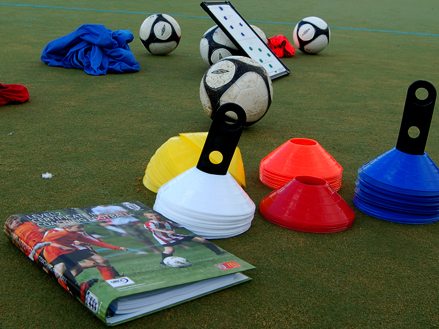 Congratulations to U10s coach Tom Bailey who yesterday became the latest Robins coach to succcessfully complete his FA Level 2 coaching award. The coveted Level 2 award is not for the faint-hearted and requires significant commitment from coaches - the course takes 75+ hours to complete over a period of many months. Candidates are assessed via knowledge tests, projects, assignments and assessments of their practical coaching during the training. Following a period of practice after the course, there is a further assessment of practical coaching ability and oral questions on performance, knowledge and understanding.
Tom in action with the U10s
A delighted Tom commented "I am very pleased and excited to have completed my level 2 coaching award. The course has given me a huge reflection and knowledge to improve my coaching ability. Of course we are all always learning, but I have noticed the ability difference since starting the level 2 course. I have much more confidence in what I do. I now concentrate much more on my coaching technique. It's too easy for coaches to give kids the answers - plus they don't necessarily learn in doing so. However, I am now able to get the answers from the team, which helps them develop. "Ball rolling" time has increased a lot, and very limited now on the stop starts. I can confidently say, the team are getting exceptional coaching, thanks to Robins investing in myself. I now align completely to the 4 corner FA model, and all of the England DNA principles of the game. It's no coincidence, that since the course, we have had better results, and have noticeably become a lot harder to score against. I look forward to a long and enjoyable time with Robins. I love football- and having successfully completed this course, I now look forward to passing my knowledge, on. Thank you to Robins for the investment, Mike Byrne and the FA for the time, Trevor, my co-coach, for filling in for me when I was on the course, and my family for the constant time required to pass it"
All Robins coaches are required to have at least Level 1 coaching qualifications, a requirement of the FA Charter Standard Award the club holds, but there are fewer coaches in grassroots football who have shown the commitment and ability required to step up to Level 2 so congratulations to Tom for going the extra mile to help his players improve.