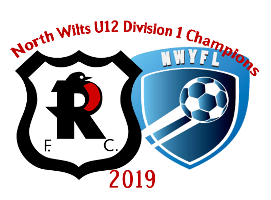 Congratulations to Robins U12 Red who won U12s Division 1 on Sunday with a hard-fought draw at home to challengers Staverton.
Robins Under 12s Red went into their final game of the season, knowing at least a draw would secure the title. All was looking good when after 20 mins Joe shot from the edge of the box and the ball went into the top corner. But as half time approached, Staverton hit back with an equaliser and then a few minutes later a penalty to go 2-1 up!
Celebrating with apple-flavoured fizzy!
With both sides having chances the whole season came down to the last 15 minutes when Joe cut inside, had a shot which the goalie half saved, only for it to be bundled over the line by Miguel. The next 10 minutes was complete "backs to the wall" stuff, with Staverton having 7 or 8 corners - with 3 or 4 minutes left Will headed off his own goal line!
As the final whistle went the guys celebrated with some non alcoholic fizz and a can of shandy bass - class!
To put this in context, this side went into the first game of the season with 8 fit players, had only 5 points from their first 4 games and got knocked out of the cup on penalties. But since the cup defeat at end of October they have gone 16 games unbeaten and taken 44 points from a possible 48. Fuelled by half time Jaffa cakes every single player has been brilliant and winning Division 1 is something they can all be immensely proud of.
The players, parents (and stressed-out coaches!) will now have a well-earned rest and plot how to defend their title next season.