The U14s(next seasons U15s) signed up for more tournaments than usual this summer to help some of the new signing intergrate into the squad.
We started with Chippenham at the beautiful Stanley Park, a good quality entry with many of the top teams in attendance. The team played well and cruised through the groups stage. Two good wins in the knockout stage beating Trowbridge & Melksham saw us bag a final berth against Newbury.......a tight game with both teams tied at the end of normal time & extra time and the dreaded penalty shoot out. After several rounds of the penalty shoot out Newbury eventually nicked it.
Next up was another quality venue, Beversbrook for the Calne event. A sluggish start saw the team lose the first 2 group games. After a 'reset' chat with the lads, they rallied and won the next 4 games scoring 8 goals and only conceding 1 and some silverware as a result of winning the Plate Final. Onto Malmesbury, on a day when goals/wins were hard to come by, the first 8 matches in the group were draws with only 2 goals being scored by all teams......after this the team went on a run of winning the next 5 games without conceding a single goal all day and more honours beating Bassett in the final.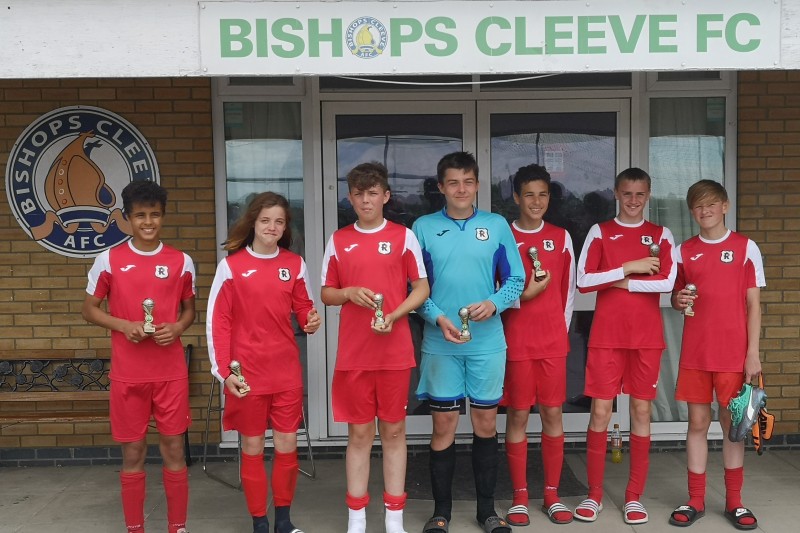 Then to a new venue for us Bishop Cleeve, a nice venue and well run tournie. The lads did well again and started brightly, we finished second in the group and straight into the plate final which we narrowly lost. Then onto an old favourite and happy hunting ground in the past. Unbeaten in the 5 group games, only conceding 2 goals. We won the Quarter Final game well and set up a semi final meeting with a very good team from Oxford called Tower Hill. We had chances to score but didnt and eventually Tower Hill scored what proved to be the winner from a corner, it wasn't clear whose leg it went in off but it did. They went on to win the Tournament in the final.
Last Tournament of the summer was a visit to Tidworth, the start was delayed 40 mins due to the earlier age groups over running. However after 5 games we were unbeaten(2 wins and 3 draws) and top of the group. Then 2 narrow defeats in the remaining games saw us finish 5th in the group and out of the Knockout stage........at least we got home to see the England cricket team win the World Cup!!!All in all a successful summer with 4 finals and a couple of wins.